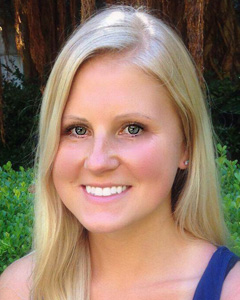 Zuzanna is a CA licensed and NBCOT certified occupational therapist that graduated with her Masters of Science in Occupational Therapy in 2014 at Kean University in New Jersey and is an active member of the American Occupational Therapy Association. During her graduate studies she was awarded the Who's Who Among Students in American Universities and Colleges for academic achievement, community service and leadership. During her time at Kean University, Zuzanna was the Director of Public Relations for the Student Occupational Therapy Organization where she organized and oversaw numerous community service projects for families, children with special needs and community members.
Zuzanna is passionate about working with the pediatric population and providing quality services to children and their families. She is currently working in the school setting including extended school year programs, pediatric outpatient clinic and home care. She has experience in individual, group and early intervention treatment working with a variety of neurological and developmental diagnoses including cerebral palsy, Autism Spectrum Disorder, picky feeding, fine motor/handwriting delays, Spina Bifida, Angelmans syndrome, Rett's syndrome, Down syndrome, Sensory Processing Delays and global developmental delays.
Prior to receiving her graduate degree and relocating to San Diego, Zuzanna received her Bachelor's degree in Fine Arts Education where her passion for working creatively with children developed. She has clinical experience working with kids 0-18 years old in their natural environments including home, classrooms, playgrounds as well as sensory gyms, outpatient clinics and facilitating sensory groups using her creative background to provide engaging, motivating and child-led play-based treatment. Zuzanna looks forward to continuing her education to provide up to date, evidence-based intervention and is very excited to join the San Diego for Speech Therapy & Occupational Therapy Team!
Originally from a small town in New Jersey, Zuzanna loves living in sunny San Diego. During her free time she enjoys hiking, camping, traveling, photography and staying active!