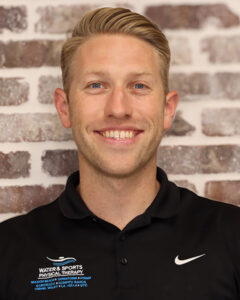 NOMPTI Certified Cervical Spine Specialist
NOMPTI Certified Lumbar Spine Specialist
SFMA Certified Level 1
Published Author in BMC Musculoskeletal Disorders on chronic low back pain
American Academy of Manipulative Therapy Certified SMT Levels 1 and 2
Dr. Carter Phillips, PT, DPT received his Doctorate in Physical Therapy from San Diego State University. This education provided him with an extensive understanding of musculoskeletal injuries with an emphasis on biomechanical evaluation and treatment using both manual and exercise based interventions. He also has clinical experience in a variety of orthopedic, sports and neurologic rehab settings.
Dr. Carter Phillips, PT, DPT developed a particular interest in orofacial myofunctional disorders (OMDs) as related to oral rest posture issues, mouth breathing, malocclusion and deficient orofacial growth, airway dysfunction, sleep-disordered breathing, and the relationship of OMDs to the cervical spine, posture, body pain, fibromyalgia, migraines, tinnitus, TMJ issues, and overall health in both children and adults. When treating many physical therapy patients, Dr. Carter Phillips, PT, DPT noticed a component of their treatment may be missing if there is an OMD that is not identified and addressed. Dr. Carter Phillips has specific training in orofacial myofunctional disorders and treatment from the International Association of Orofacial Myology (IAOM) and also Nicole Goldfarb, M.A., CCC-SLP, COM. Dr. Carter Phillips, PT, DPT truly understands the interrelationship of form and function of the orofacial system and the entire musculoskeletal system. He embraces the idea that addressing the orofacial system and treating orofacial myofunctional disorders is an important component to the overall well-being of the entire body.
Dr. Carter Phillips, PT, DPT is a published author in a national medical journal for his research on low back pain. This research used a three-dimensional motion capture system to identify abnormal movement patterns in subjects with low back pain. He recently presented this research at a national physical therapy conference for the American Physical Therapy Association. Dr. Carter also teaches our therapists the latest manual therapy techniques at our mentorship meetings 2 times per month. He focuses on the latest science in exercise therapy and hands on techniques to help our patients receive the best treatment possible.
Prior to SDSU, Dr. Carter Phillips, PT, DPT received his bachelor's degree in Applied Health Sciences from Point Loma Nazarene University. While a student at PLNU, he was the starting goalkeeper for the men's soccer team for four years. He earned multiple NCAA conference and district all-academic team honors during this time. Following his athletic career in college, he played soccer for one year at the semi-professional level as well.
Dr. Carter Phillips, PT, DPT was born and raised in San Diego with his parents and twin brother. When he is not practicing physical therapy, he spends his time playing soccer, beach volleyball or pick up basketball. He loves physical therapy because he is able to give people the tools to manage their pain independently and return to full function.