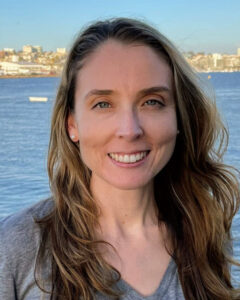 Ariana received her Master of Science in Clinical Speech-Language Pathology from Northern Arizona University (NAU). During her graduate program, Ariana developed a strong interest in gender-affirming voice therapy, interprofessional practice, and methods for providing culturally sensitive and appropriate evaluations and treatment. She participated in related pilot programs and research projects, resulting in poster presentations at the 2016 American Speech-Language-Hearing Association (ASHA) Convention and an oral presentation at the 2017 Arizona Speech-Language-Hearing Association (ArSHA) Convention. At the time of graduation, Ariana was presented with the NAU Department of Communication Sciences and Disorders Outstanding Graduate Clinician Award.
After graduation, Ariana spent time working in the public school system, providing speech and language therapy services to students in preschool through high school throughout San Diego. During her time in the schools, Ariana gained extensive experience developing a wide variety of augmentative and alternative communication (AAC) programs for her students. She later made the switch to working in a private outpatient pediatric clinic, gaining continued experience providing services in-clinic, in-home, and virtually, for clients ages 16 months to 21 years.
Additionally, Ariana has served as a clinical supervisor for graduate student interns and speech-language pathology assistants (SLPAs), and as a clinical fellowship mentor.
Ariana has a wide variety of experiences evaluating and treating in the areas of speech sound production, receptive and expressive language, social communication, cognitive communication, voice, fluency, and AAC. She has worked with clients with various diagnoses, including but not limited to, autism, apraxia, cleft lip and palate, traumatic brain injury, attention-deficit hyperactivity disorder, intellectual disability, cerebral palsy, Down syndrome, Rett syndrome, and CASK-related disorders. Ariana is a strong believer in utilizing a whole-person, whole-family, whole-system approach to assist in developing communication skills in clients of all ages. She enjoys helping to create a strong team dynamic working with clients and their families, while putting the "fun" in functional communication therapy