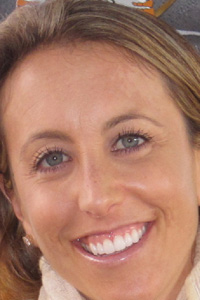 Elementary Learning Specialist Teacher
SDCST & OT Lead Educational Specialist
CA Credentialed Level II Teacher
Mild/Moderate Special Needs Credential
Bilingual Spanish/English
Lauren Adams received her Bachelor of Arts degree from University of California, Berkeley as well as her Master's degree in Special Education and her Level II Teaching Credential and Mild/Moderate Credential from Chapman University. Lauren worked in the Solana Beach School District as a Learning Specialist for 5 years. She was also the Educational Director of SCORE! Educational Centers in Long Beach. At UC Berkeley, Lauren coordinated philanthropic work benefitting Service For Sight (programs to aid blind and visually impaired) and the UC Berkeley disabled Students Program, which offered assistance to UC Berkeley students with physical disabilities.She also provided specialized reading support to elementary students in the Berkeley area. Lauren has also worked in the Del Mar Union School District and in a variety of elementary and middle schools in North County San Diego (including Del Mar, Torrey Hills, Solana Beach, Encinitas areas). Lauren has experience working with a wide range of ability levels and disabilities including ADD/ADHD, Learning Disabilities (including Dyslexia), Autism, Asperger's Syndrome, Traumatic Brain Injury, Cerebral Palsy, and Down Syndrome. Lauren focuses on specialized instruction in the core academic areas of mathematics, reading, and writing and has done additional trainings and research to improve her ability to make material accessible to all learning styles. She has been trained in and has used various Orton-Gillingham based strategies and programs, including the Barton Reading & Spelling Program for students who struggle with Dyslexia and Learning Disabilities. She has also been trained in Guided Language Acquisition Strategies (GLAD) strategies, and the Lindamood Bell Program Seeing Stars. Lauren is also proficient in Spanish. Lauren is a dedicated, resourceful, and compassionate Educational Therapist who celebrates individuality and diversity of all students. She possess a deep understanding of the distinct needs of the students and the ability create motivating and concrete lesson plans and activities that accommodate all learning styles. She demonstrates a commitment to developing an environment that cultivates student achievement through positive reinforcement. Lauren employs skills to foster collaboration among your child's school staff, special education team, other professionals working with your child, and parents in order to provide your child with the best opportunity to succeed!Contact San Diego Center For Speech Therapy & Occupational Therapy (858) 488-4810 to schedule an appointment with Lauren.