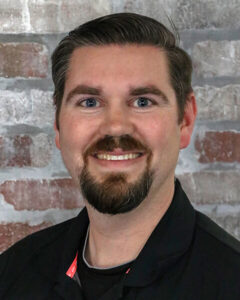 Titleist Performance Institute Certified Level 2 Medical Professional
Titleist Performance Institute Certified Level 2 Fitness Professional
Certified Level 1 Stick Mobility Coach
Trained in Postural Restoration Institute Assessment & Intervention
Dr. David Evans, DPT, received his Doctorate of Physical Therapy from the University of St. Augustine in San Marcos, California. The University of St. Augustine gave him a strong background in orthopedic and manual physical therapy. This has allowed Dr. Evans to receive an advanced education in evaluating and treating an array of musculoskeletal dysfunctions. He has taken multiple advanced classes in the evaluation and treatment of the cervical, thoracic, and lumbar spines, as well the lumbar/pelvic complex and extremity integration. Dr. Evans has also received advanced training in evaluating and treating the temporomandibular joint in conjunction with the mechanics of the cervical spine. Dr. Evans developed a particular interest in orofacial myofunctional disorders (OMDs) as related to oral rest posture issues, mouth breathing, malocclusion and deficient orofacial growth, airway dysfunction, sleep-disordered breathing, and the relationship of OMDs to the cervical spine, posture, body pain, fibromyalgia, migraines, tinnitus, TMJ issues, and overall health in both children and adults. When treating many physical therapy patients, Dr. Evans noticed a component of their treatment may be missing if there is an OMD that is not identified and addressed. Dr. Evans has specific training in orofacial myofunctional disorders and treatment from the Academy of Orofacial Myofunctional Therapy / Academy of Applied Myofunctional Sciences and also Nicole Goldfarb, M.A., CCC-SLP, COM. Dr. Evans truly understands the interrelationship of form and function of the orofacial system and the entire musculoskeletal system. He embraces the idea that addressing the orofacial system and treating orofacial myofunctional disorders is an important component to the overall well-being of the entire body.
Dr. Evans has taken many continuing education courses from Titleist Performance Institute, Postural Restoration Institute, Selective Functional Movement Assessment, and Dynamic Neuromuscular Stabilization. Dr. Evans has become a certified Medical and Fitness Professional from TPI and can perform golf related screenings, evaluations, and treatment utilizing a variety of methods including video analysis of golf swings. Dr. Evans has commonly been referred to as "the Golf Guy" due to his intimate knowledge base of the golf swing and how to treat bodily dysfunctions which may be causing problems in the golf swing.
Dr. Evans has had internships at the Kern Medical Center in Bakersfield, at Palomar Heights Care Center in Escondido, and at the Sharp Rees Stealy outpatient orthopedic clinic in La Mesa. These clinical rotations have given him the knowledge to evaluate and treat various musculoskeletal, neurological, cardiopulmonary, and metabolic dysfunctions. Prior to attending the University of St. Augustine, Dr. Evans attended San Diego State University where he earned his Bachelor of Science in Kinesiology with an Emphasis in Pre-Physical Therapy. During his undergraduate education, he worked at Water and Sports Physical Therapy for 3 years as a Lead Exercise Specialist at the Mission Beach location.
Dr. Evans believes that good communication is the most important part of the therapist-patient relationship. He believes that a patient has a need to be educated about their condition and that a physical therapist should do everything in his power to make sure that a patient understands their condition and how it is going to be treated.
Dr. Evans believes that a good physical therapist needs to have advanced knowledge of anatomy and biomechanics to truly understand the complexities of the human body. With this knowledge, a physical therapist will have the ability to successfully evaluate and treat patients with a multitude of dysfunctions. Lastly, he believes that a physical therapist should not treat just the pain that the patient is experiencing, but should focus on treating the dysfunctional cause of the pain.
Dr. Evans is a born and raised San Diegan and enjoys exploring all of the beaches, parks, and mountains that San Diego has to offer. Participating in and watching sports like basketball, baseball, football, soccer, and golf are a passion of his. Because of this, Dr. Evans' main goal in treatment of his patients, whether they be a professional athlete or weekend warrior, is to get them healthy and back to the lifestyle they enjoy.