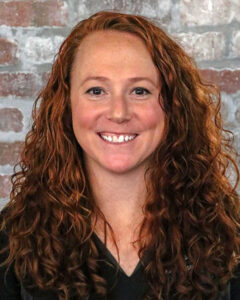 Board Certified Orthopedic Clinic Specialist

Certified Manual Therapist

Certified Level 1 Stick Mobility Coach 

Certified Vestibular Rehab Specialist 

Trained in Postural Restoration Institute Assessment & Intervention

Trained in Dynamic Neuromuscular Stabilization Assessment & Intervention

Exercise Specialist Mentorship Program (CEMP)
Dr. Randi Kinney-Esquibel PT, DPT, OCS, MTC, received her Doctorate of Physical Therapy from the University of St. Augustine for Health Sciences located in San Diego, from which she graduated summa cum laude. Her doctorate program provided her with a strong background in manual and orthopedic physical therapy with advanced training in the evaluation and treatment of musculoskeletal injuries and dysfunctions. She also completed her Bachelors of Science in Kinesiology, Pre-Physical Therapy at San Diego State University. 
Throughout her doctorate program and following completion, she continued to follow her passion for teaching others, by working as a teacher's assistant for the Spinal Evaluation and Manipulation course, and Biomechanics Lab course at the University of St. Augustine, as well as a teacher's assistant for the San Diego State University's DPT program. Dr. Kinney-Esquibel believes that having a deep-rooted knowledge of anatomy and biomechanics, as well as the fundamental mechanics of proper diaphragmatic breathing can dramatically impact the success of patient outcomes.
Dr. Randi is the director of our Poway clinic, which is unique in its setting. Combined with Symbiotic Training Center, they work together to provide individual athlete functional movement assessments and elite individualized sport specific training, specializing in overhead athletes, specifically baseball and softball specific injury prevention and sport performance. She is also the supervisor and coordinator of WSPT's elite exercise specialist program (CEMP), which includes the education of advanced land and aquatic exercise to future physical therapy students and healthcare professionals. 
Dr. Randi has a strong passion for manual therapy, receiving her manual therapy certification (MTC), and in treating orthopedic injuries, receiving her board certified orthopedic certification (OCS).  Her didactic training, and relentless passion about human movement and function has led her in the direction of, and emphasis in, breathing mechanics and its relation to all aspects of physical training and human function. She continues her learning and practice in utilizing the theories and principles of DNS (Dynamic Neuromuscular Stabilization) and PRI (Postural Restoration Institute) to tackle advanced movement dysfunction and treat with a whole body integration and systems approach. She has completed the following PRI courses: Postural Respiration, Pelvis Restoration, Cervical Revolution, Myokinematic Restoration, and PRI integration for Baseball, as well as the following DNS courses: DNS A, DNS Exercise Sport 1, and DNS approach to the throwing athlete. Dr. Randi is also a Level 1 Stick Mobility Coach and Vestibular Rehab Specialist. 
Dr. Randi developed a particular interest in orofacial myofunctional disorders (OMDs) as related to oral rest posture issues, mouth breathing, malocclusion and deficient orofacial growth, airway dysfunction, sleep-disordered breathing, and the relationship of OMDs to the cervical spine, posture, body pain, fibromyalgia, migraines, tinnitus, TMJ issues, and overall health in both children and adults. When treating many physical therapy patients, Dr. Randi noticed a component of their treatment may be missing if there is an OMD that is not identified and addressed. Dr. Randi has specific training in orofacial myofunctional disorders and treatment from the Academy of Orofacial Myofunctional Therapy / Academy of Applied Myofunctional Sciences and also Nicole Goldfarb, M.A., CCC-SLP, COM.   Dr. Kinney-Esquibel truly understands the interrelationship of form and function of the orofacial system and the entire musculoskeletal system. She embraces the idea that addressing the orofacial system and treating orofacial myofunctional disorders is an important component to the overall well-being of the entire body. The connection of the orofacial system and airway/breathing mechanics has been a crucial connection in progressing Dr. Randi's ability to help patients restore functional pain free movement. 
She is certified in Myofascial Manipulation; Extremity Evaluation and Manipulation; Extremity Integration, Spinal Evaluation and Manipulation; Advanced Evaluation and Manipulation of the Pelvis, Lumbar and Thoracic Spine; Advanced Evaluation and Manipulation of the Cranio-Facial, Cervical and Upper Thoracic Spine and Functional Analysis and Management of the Lumbo-Pelvic Hip Complex.
Dr. Randi began her experience with WSPT prior to enrolling in her doctorate program as a lead exercise specialist, and patient care coordinator. Being a part of the WSPT family for many years now, she is beyond passionate about the excellence of the company and in upholding the exceptional quality of care that is provided. 
As a small town girl from Bishop, CA, Randi enjoys anything outdoors! From the mountains to the ocean you can find her backpacking, and snowboarding, to playing softball, soccer and golf and spending long days at the beach with her growing family,  and friends. 
Her enthusiasm, optimism, and motivation for helping others and practicing physical therapy comes from her own experiences as a patient, and the lifelong relationships she has formed with the physical therapists that have helped her recover from sports injuries and surgeries of her own. Dr. Randi truly feels that "It is a blessing to get to spend her day, helping others get back to what they love to do, so they can enjoy their lives, and get back to living".