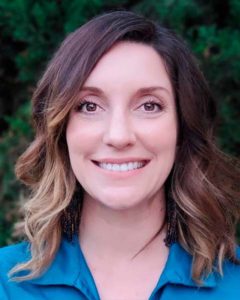 Orofacial Myofunctional Therapist (currently working towards her Certification)

Trained in the Debra Beckman Oral Motor Approach

Trained in RDI (Relationship Development Intervention)
Cat is a licensed Speech-Language Pathologist in the state of California and Florida and a current member of the American Speech-Language and Hearing Association. She received her Bachelor's degree at the University of Central Florida in Communicative Sciences and Disorders and her Master's Degree at the University of Central Florida in Speech-Language Pathology. Cat has been a Speech-Language Pathologist since 2010 and has worked in a variety of settings including pediatric outpatient clinics, adult outpatient clinics, early intervention home- health, adult home- health, hospitals, skilled nursing facilities, post-acute facilities, sub acute facilities, trauma centers, and large residential facilities.
Cat is a compassionate and enthusiastic SLP with extensive experience in many professional settings simultaneously. She has 9+ years of experience working with 1-3 year-olds (early intervention), preschool, and school aged children with a variety of speech and language impairments including autism, developmental delays, phonological delays, motor speech impairment, voice disorders, feeding impairments,  and delayed expressive and receptive language development. She has recently received training in Relationship Development Intervention (RDI) to assist in enhancing dynamic intelligence, connections, communication and shared joy between patients and their families to enhance authentic emotional relationships, specifically individuals with autism or behavioral disorders. In March 2020, Cat spearheaded and managed a teletherapy program for a pediatric outpatient clinic in San Diego.
Cat has over 11 years of experience in evaluating and treating individuals experiencing difficulty swallowing (dysphagia) at the oral, pharyngeal and esophageal phase of the swallow. Cat bases her treatments of dysphagia on exercise based evidence in facilitating a normal swallowing pattern and strengthening the swallowing muscles while providing techniques and strategies to improve the swallow function. She received one-on-one training with Debra Beckman, the internationally renowned creator of the Beckman Oral Motor Protocol in Orlando, Florida to become proficient in performing the Beckman Oral Motor Approach on infants, children and adults. In February of 2021, Cat completed the Myofunctional Therapy training course in order to become a Certified Orofacial Myologist. She is currently working towards her certification.
Cat provides therapy for adults with various neurological impairments such as stroke, traumatic brain injury, Parkinson's disease, Alzheimer's disease who are experiencing aphasia, dysarthria, apraxia of speech, voice disturbances and cognitive-linguistic dysfunction. Cat's experience with AAC (Augmentative Alternative Communication) devices range from the use of iPad apps (Proloquo2Go) to the Tobii Dynavox eye gaze/eye tracking device to improve functional and meaningful communication exchanges for non-verbal individuals.
Cat enjoys the outdoors. She loves to surf, hike and do yoga in her free time. Cat has volunteered with Surfers for Autism in Florida, a non-profit organization dedicated to unlocking the potential of children and adults with autism through the power of surfing and Life Rolls On in San Diego, a non-profit organization bringing the experience of surfing to individuals with traumatic brain injuries and spinal cord injuries.