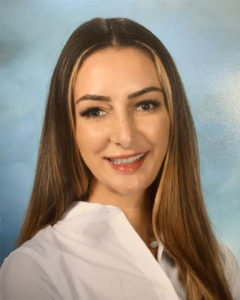 Trilingual SLP, Bilingual Specialist

Early Intervention Specialist

Pediatric and Adult SLP

SDCST Lead Assessor
Allison is an ASHA certified speech-language pathologist who earned her Bachelor's degree in Linguistics from San Diego State University with a certification of TESOL (Teaching English to Speakers of Other Languages) and pursued her Master's degree from New York Medical College. Allison is trilingual. She speaks English, Spanish and Armenian. She has a passion for working with multi-cultural/multi-lingual individuals and values collaborating with families and partnering with colleagues both in and outside of the discipline to generate creative therapeutic ideas and to better inform her interventions. 
While Allison has training in nearly all aspects of speech-language pathology, her professional interests include bilingual populations, autism, social/pragmatic language, articulation, speech delay, stuttering, apraxia, and dyslexia. Allison is also passionate about working with families through early intervention. 
Allison has vast experience treating both children and adults.  Her work experience includes an array of settings and populations.  She has worked as a bilingual speech-language pathologist in an elementary school in San Diego since 2018.  She also has worked with adults at Metropolitan Hospital in New York, being responsible for in an assessing and treating speech, language, social communication, cognitive-communication and swallowing disorders in adults.  Also in New York she worked with infants and toddlers with special needs through early intervention as well as children aged 3-5 who qualified for preschool special education.  Allison ran all monolingual and bilingual speech therapy sessions at an elementary school in New York, and she also worked at Boston Children's Health Physicians in New York, treating patients with articulation and language disorders.  She had several rotations in specialized settings including Westchester Medical Center in Valhalla NY where she completed speech-language/cognition evaluations at bedside with adults with neurogenic etiologies and New York-Presbyterian Methodist Hospital in Brooklyn NY where she worked in an acute care setting conducting clinical bedside evaluations for speech-language and swallowing disorders for adults with neurogenic etiologies.   Allison has also presented at Grand Rounds at New York Medical College.  She also worked as a Behavior Intervention Specialist at a charter school in San Francisco, CA where she worked with the special education team to meet student academic and behavior goals by running weekly student groups.  Before becoming an SLP, Allison was a Spanish Teacher at an elementary school in Encinitas, CA where she taught kindergarten, first and second grade Spanish.  Allison has specialized skills that set her apart from most SLPs.  Her graduate degree was from a medically based speech-language pathology program, emphasizing neuroscience and overall medical management.  Her training included gross anatomy cadaver dissection completed at NYMC School of Medicine.  She is trained in the following instrumentation: Kay Pentax Digital Swallow Workstation, Visi Pitch IV, Surface EMG and IOPI.   She has conducted video-fluoroscopic examinations for assessment of dysphagia.  Allison also conducted research with UC Berkeley, CA that involved data retrieval and running queries.  On top of all of her amazing background in the filed, she is also trilingual and speaks Spanish, Western Armenian, and English
Acknowledging that learning styles vary on an individual basis, Allison utilizes client-specific interests and talents to offer the most successful therapy. The combination of Allison's strong academic foundation, diverse cultural experiences, and compassionate nature has shaped her unique approach to therapy. Her passion lies in helping individuals develop the art of communication to promote their own self-expression and personal achievement.